Improving OSMCha for the community
Wille Marcel
Who am I?
Software developer
Mapper since 2010
Created OSMCha in 2015
Working on OSMCha with the Mapbox support since 2017
How did it begin?
What's happening on our map?
Filter changesets & detect harmful edits faster
The first version - list page
The first version - filters page
The first version - changeset page
Redesign process
Redesign process
User interviews
Identify key components and operations
Mockups
Workflows
Current version (since Sep, 2017)
How does it work?
Changeset ingestion

      OSM Changeset Replication files
      ⬇
      Analysis of changeset metadata + user history
      ⬇
      Register on database
    
Feature ingestion

      OSM Features Diff
      ⬇
      osm-compare
      ⬇
      API request to store on database
    
Last months improvements
Filter by administrative area
Filter by polygon
Save filters
Load them (+ RSS feed)
Read and post changeset comments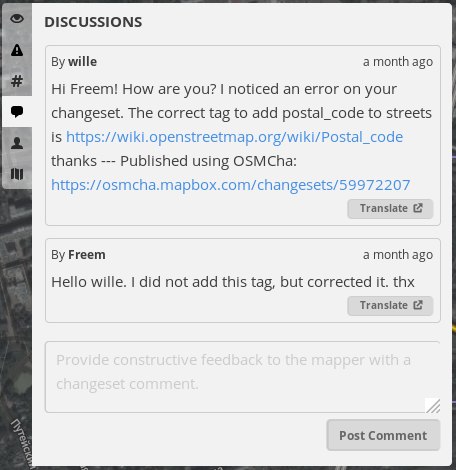 API available
http://osmcha.mapbox.com/api-docs
Backend improvements
Code refactoring
Upgrade to Django 2.0
Enhancements on database model and filters
Changes required by GDPR (wip)
Plans for the future...
Our vision:
Be a central place for OSM community to share and review detections
Next features
Allow parts of Communities to post detections to OSMCha
Make the creation of osm-compare functions easier
Add a rating mechanism for better classification of changesets
If you are interested in
making OSMCha better, please
join us!
Thanks to Mapbox for supporting this work and talk!